Start your own AVON business for ZERO down (limited time left).
*cleaning supplies *kitchen Essentials *Pet Care * Laundry *Candles *Supplements *Essential Oils * Oral Care *Hair Care *Jewelry *Makeup *Skin Care *Fragrance *Bath & Body *Skin So Soft Bath Oil *Bug Guard *Fashion
Discover the Beauty of Avon Leadership
Keep growing your team and see how the Avon Leadership program can take your business to the next level with higher earnings on team sales, bonuses, special recognition awards and VIP perks as you move up!
More For You
You'll love mentoring and empowering others plus you'll earn a long list of bonuses as you build your team and move up into the Avon Leadership level. Start small or build as big a team as you want — the sky's the limit!
MORE INCOME — 3% ON TEAM SALES
Higher earnings (an extra 3% on all team sales, to start!) and bonuses for helping your team succeed and moving up in title yourself. Many Leaders make a full-time income!
MORE FUN AND TEAMWORK
It's easy to share ideas and inspiration virtually with Zoom, Facebook and endless teleconferencing options.
MORE KNOWLEDGE, CONFIDENCE AND SKILLS
Learn to how to build your business with courses on Avon U and a dedicated Learning & Development team.
MORE EXCITING OPPORTUNITIES WITH AVON
Exclusive access to events, incentives and perks and trackers to see your progress.

Why They'll Love Joining Avon
25% OFFon beauty products they order*
25% COMMISSION
on beauty orders from customers*
UP TO
$3,300 IN COMMISSIONS & BONUSES
in the Pathway to Premier incentive in their first 4 months
*Starting on orders of $40+; 20% off $40+ fashion and home orders
PLUS ALL THE PERKS AND SUPPORT
Get paid for doing what you love
Make real money to help your family or save for a splurge (and get paid fast with direct deposit)
Earn on your own terms and schedule, part-time or full-time, from anywhere
Enjoy discounts on award-winning products, trend-leading Korean and clean beauty, fragrance, jewelry and much more
Dream-vacation incentive trips
The incredible Avon community
Free online store for 24/7 sales
Digital tools to work your business from home or on the go, like the Digital Catalog and virtual makeup tool to do beauty consultations from anywhere
Tons of great training with our amazing training team and AVON U, our free, online learning center
Online fundraisers to help your community
Fantastic perks like exclusive partner discounts, access to telemedicine and affordable health insurance, online education through Avon Perks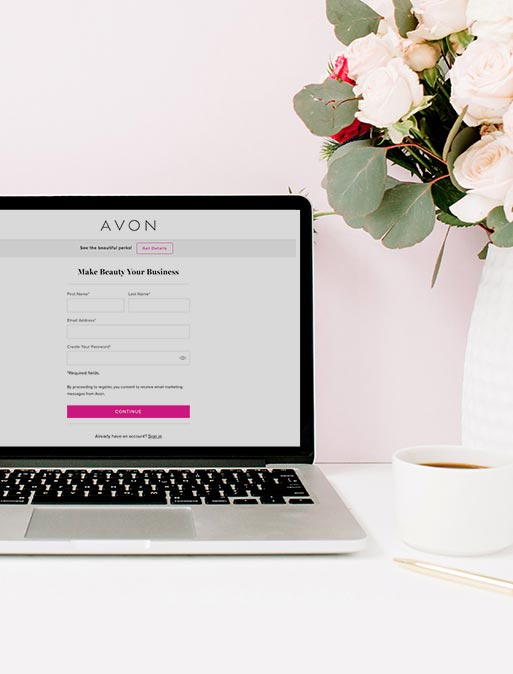 HOW IT WORKS
1
Your recruit signs up to join your team in a few easy steps on your online store.
For a limited time, new recruits can choose to sign up for $0 (free!) or with one of our other options: With a contribution of as little as $5 to our partner the American Cancer Society* or with one of our incredible starter collections packed with best sellers. And there are lots of ways to share your sign-up page — more on that below!
2
Welcome them to your team and share the New Representative Welcome training on AVON U.
3
For a limited time right now, when they place a first order of any amount on AvonNow, your new recruits get a free gift product** ($38 value).
When their first order is $60+, we'll add a $10 credit to use in their second campaign.